Reynolds Contracting offers hardscaping services in the Central Virginia area. Hardscaping adds structural elements that compliment the living aspects of landscaping, like sidewalks, retaining walls, water features, and more. On a recent project, we worked on a project featuring central Virginia hardscaping with retaining walls. Our team used their expertise with the area's terrain, combined with their skills in earthwork and excavation, to successfully complete this two-phase project.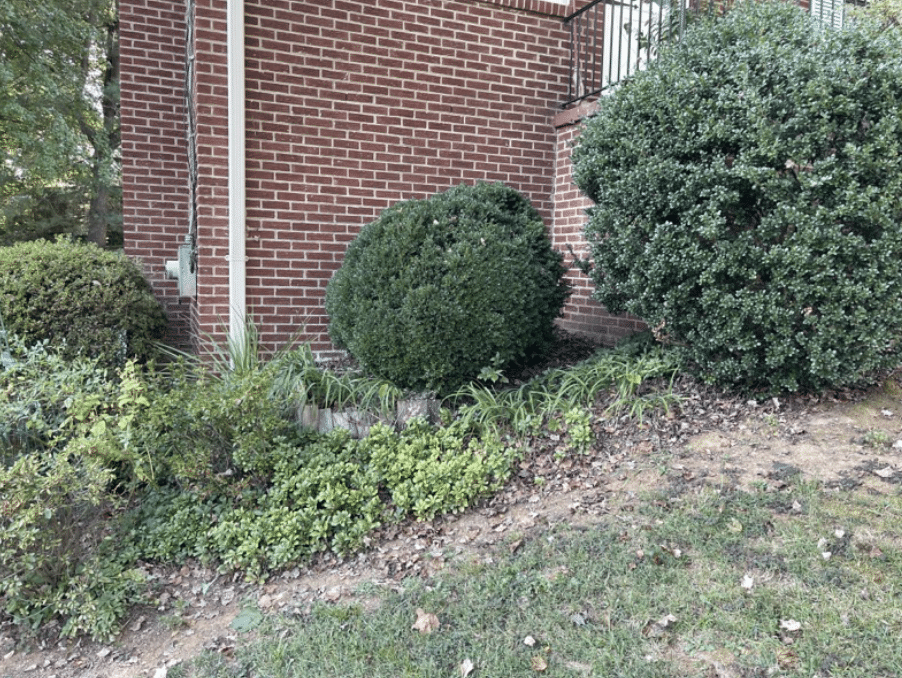 The homeowner contacted us to establish a new border long the front of the house from corner to corner. This project combined our earthwork expertise and hardscaping services. The right corner in particular needed regrading to redirect water away from the house. Phase one began with earthwork on this side. We excavated a trench and buried a 4-inch PVC pipe underground. Other types of pipe are inexpensive initially, but can be easily crushed, cracked, or clogged – which can end up being very costly after damage is done. We use PVC pipe, which is stronger to withstand freezing, thawing, and other stress like added weight; PVC pipe will last a long time. This pipe extends over 30 feet away from the base of the house, protecting the foundation from water damage, settlement, and cracking.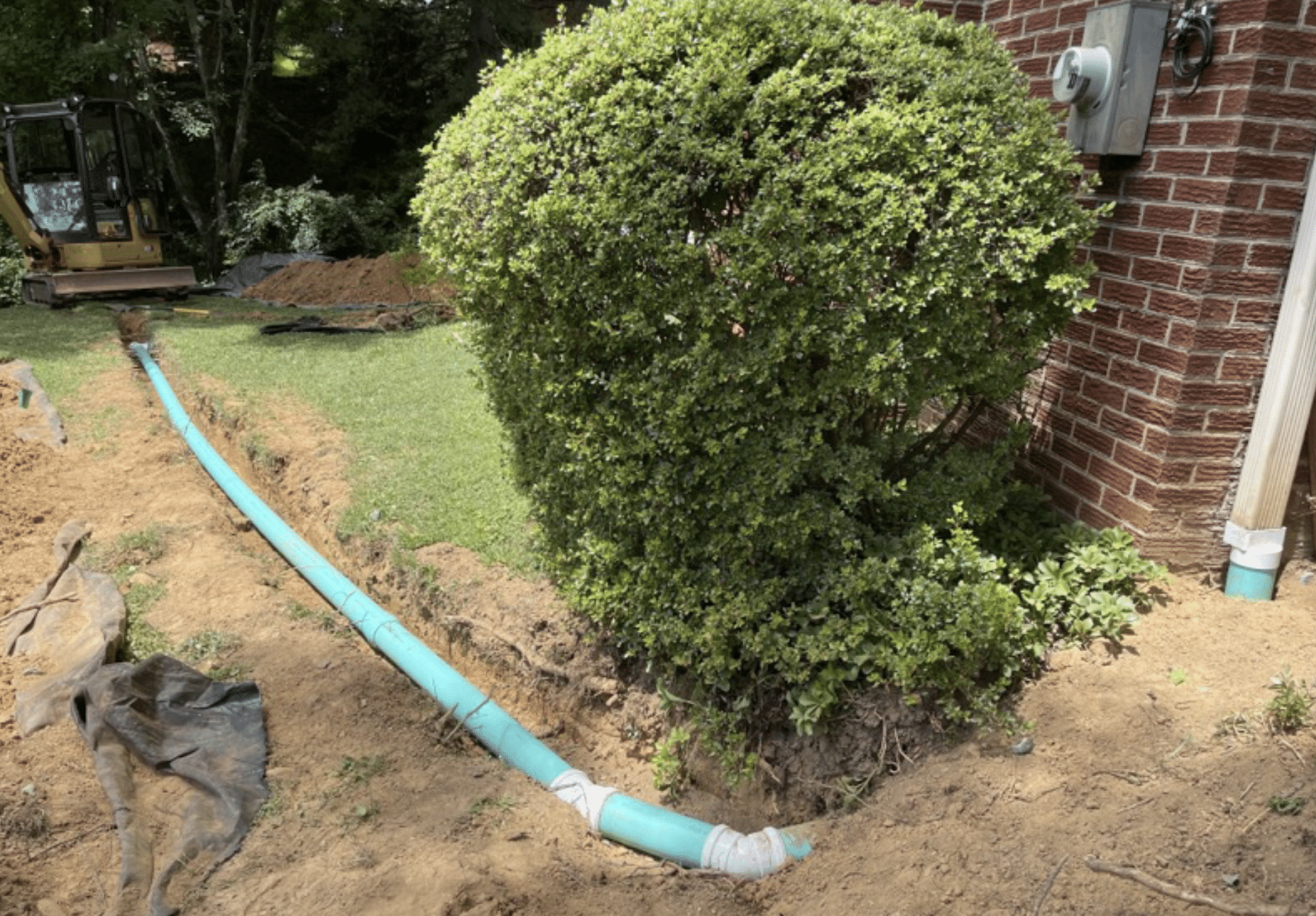 After completing phase one, we began building a retaining wall to establish a flower bed border along the front of the house. We carefully excavated around the existing shrubs, using our air knife excavator to handle these mature roots delicately. We laid 12-inch segmental blocks with matching caps and backfilled with gravel to help with drainage.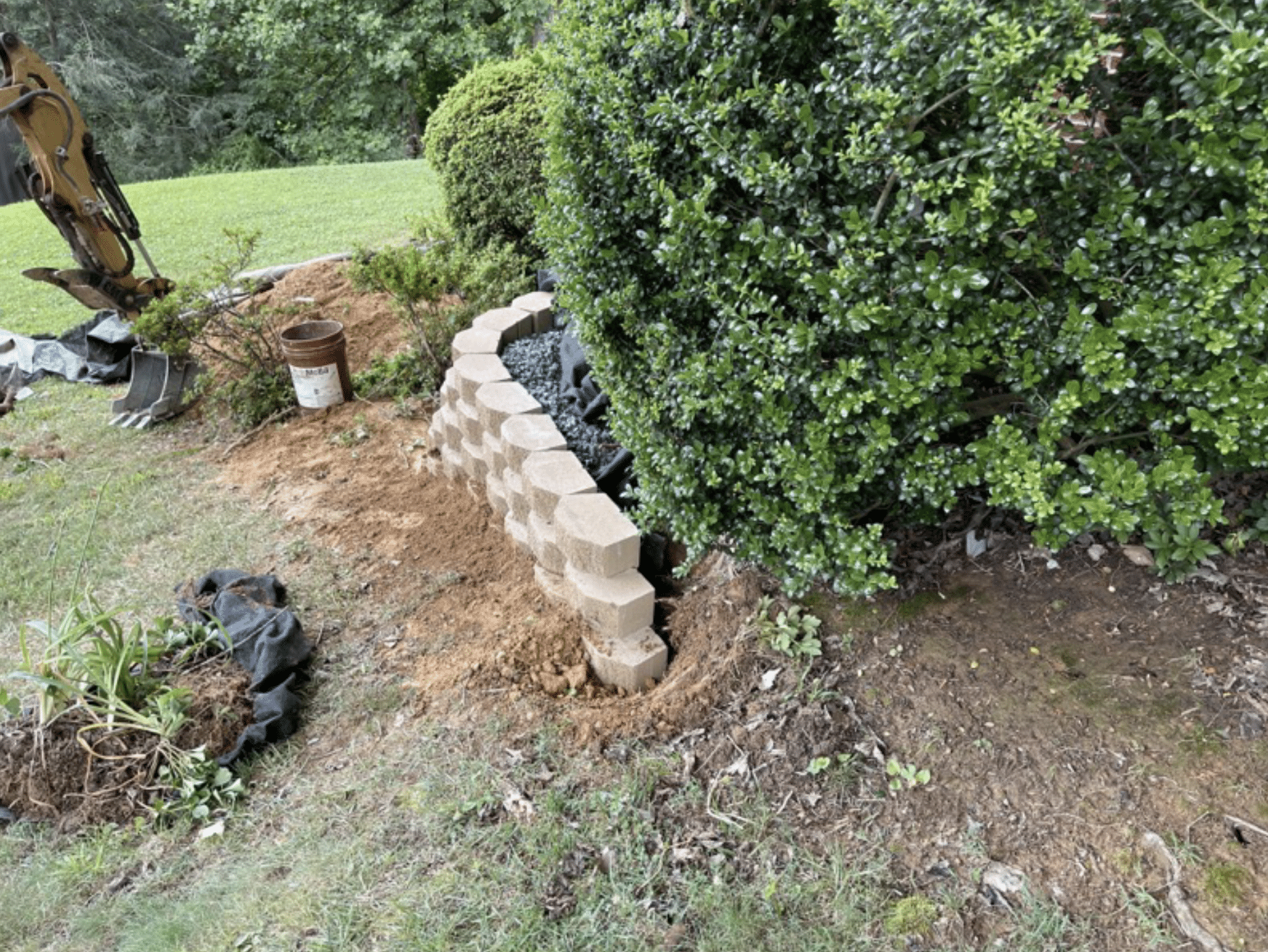 When you choose Reynolds Contracting, you get a professional team experienced in a wide variety of contracting services. We often combine our experience in one area with our knowledge in another, giving you the most comprehensive estimate and highest degree of craftsmanship in the finished product. We work with homeowners, structural engineers, and landscaping experts to make the best plan for your unique situation.
Here, we combined our excavating skills with our knowledge in foundation repair to move water way from the foundation, preventing structural problems in the future. We used our earthwork expertise to carefully maneuver around mature roots of the established shrubs onsite. Finally, we applied our experience in central Virginia hardscaping with retaining walls to enhance the landscaping and add charm to the front of this home. Contact us 434-293-6724 for help with your next improvement project!