Grass. It can be a homeowner's pride and joy. Or it can be a huge eyesore when it just won't grow! Good thing you know who to call when the frustrations of turf management are too great – Reynolds Contracting to the rescue!
David Reynolds has specialized in turf management for over 25 years. His expertise ranges from golf courses to residential yards, from seed starts to sod placement. Early in his working years, David managed golf courses as course superintendent, and later built several courses around Central Virginia. And even if you have never held a club and know nothing about the game of golf, we can all agree that golf courses have A LOT of grass.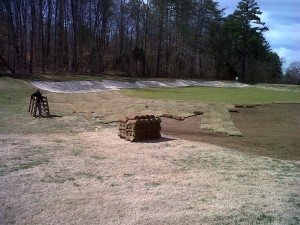 Knowing what to do with all that grass is one of David's specialties that he can apply to even the smallest lawn. Different varieties of grass have different applications, and David can advise you on which type of turf would best fit your needs.
Turf growth and overall success depends on soil as well. A multitude of soil factors can affect all of your hard work to get seed planted, so having a soil expert like David can improve your efforts by planting in ideal soil for your particular grass. Much like prepping to paint improves the final look of your house, prepping the soil for planting often takes grading experts like Reynolds Contracting to improve the final look of your lawn.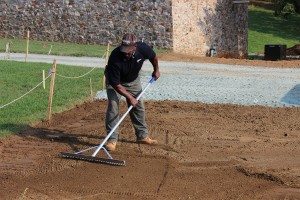 And then there is also the decision to seed or sod your lawn. David can help you make the decision and others to make sure your property is looking its best, year round.
We can get your lawn in shape to make all your neighbors jealous! We are experts in Charlottesville turf management, so contact us for your sod, soil, and grass needs.  Fall is a great time to plant new grass, so give us a call today.