Reynolds Contracting specializes in hardscaping services in the Central Virginia area. Hardscaping adds functional features to your property beyond the living elements of landscaping. Our experienced team can improve your home structurally or enhance your property aesthetically with retaining walls, steps and walkways, patio installation, and more. As grading experts, we offer drainage solutions with retaining walls, properly managing the water run-off around your home. On a recent project, we replaced an old, failing retaining wall with a new stone wall to improve water flow and prevent damage on the property.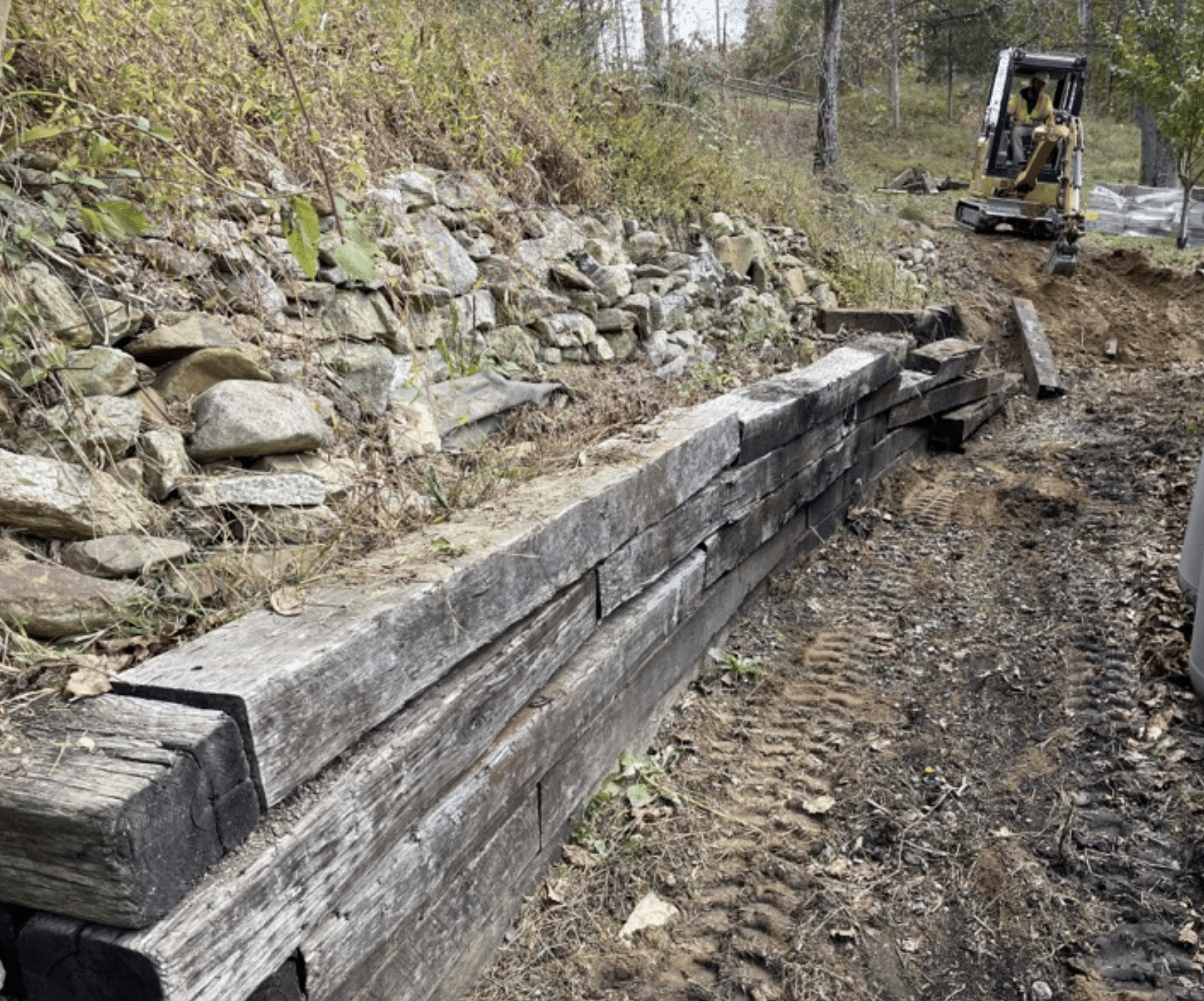 The existing timber wall had started to decay. The lack of structural support on this slope allowed water to drain directly to and under the foundation of the home. Over time, this moisture had created a mold problem inside the house. As the homeowner worked to remove the mold, we wanted to prevent further moisture build-up with a new retaining wall to better manage the water run-off coming down the exterior slope.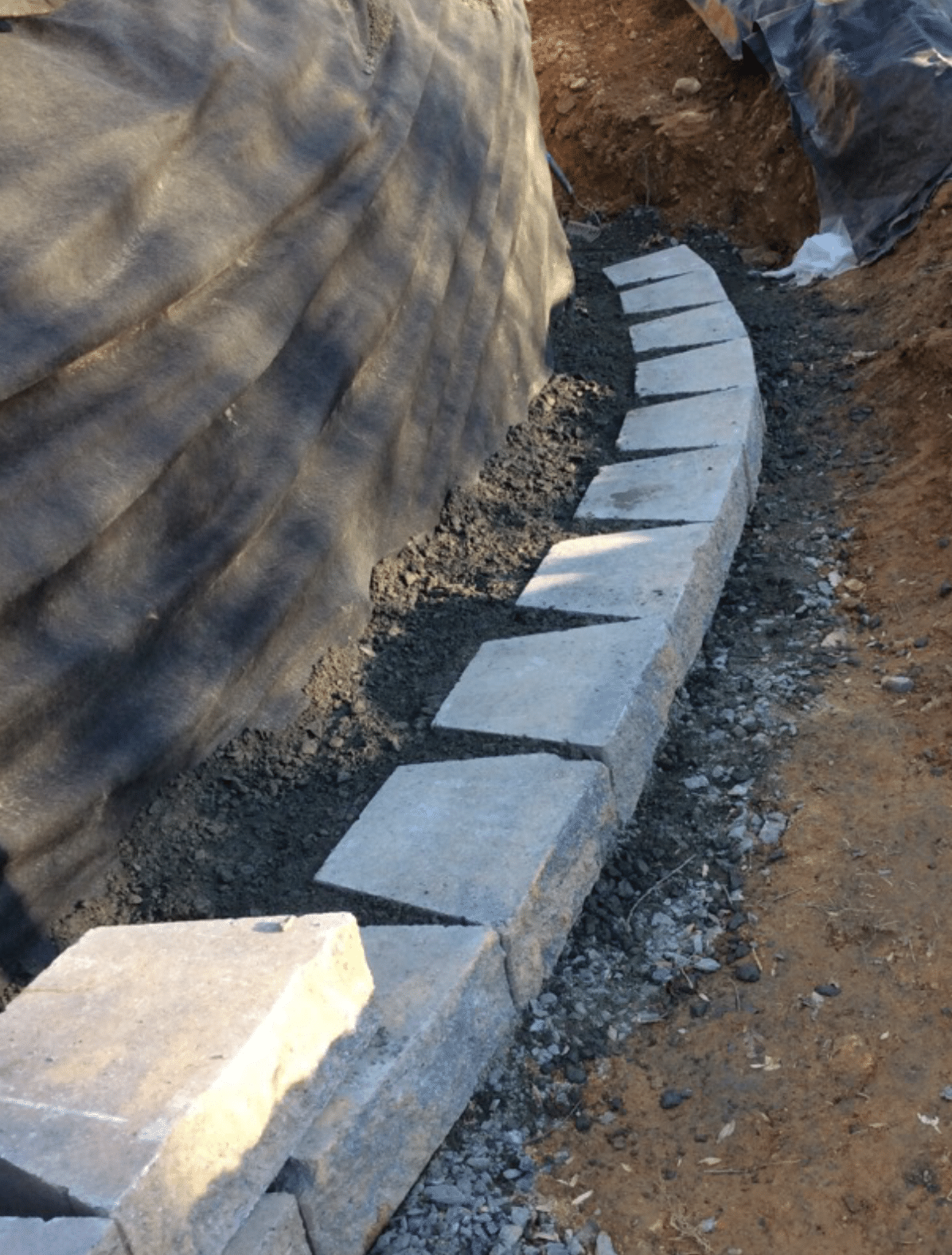 We removed the existing wall and disposed of the waste off-site. To begin work on the new wall, we excavated and removed quite a bit of dirt and underground rock. We established a new footer for the wall and began installation of the new wall.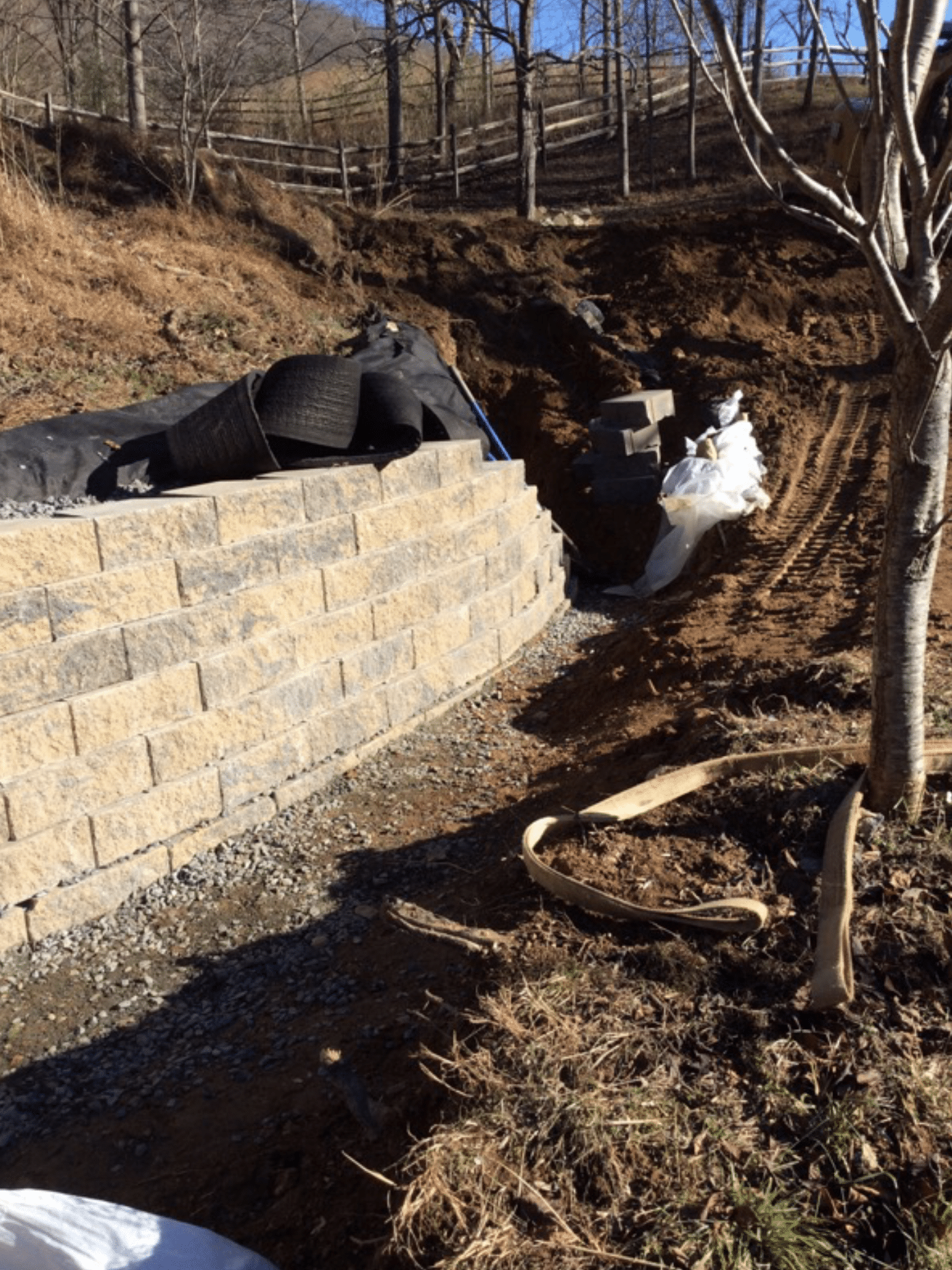 We installed a taller, segmental-block wall along the existing layout of the land. By rebuilding with a higher wall, we could improve water flow and divert water away from the home's foundation. We also installed a Hydraway® drainage pipe behind the base of the wall. Offering faster drainage and more durability against hydrostatic pressure, Hydraway® is strong, clog-resistant alternative to a traditional flat drainage pipe. Hydraway® has been used for decades on athletic fields and courts, as well as parking lots. We love the product's versatility and wide application for residential landscape drainage.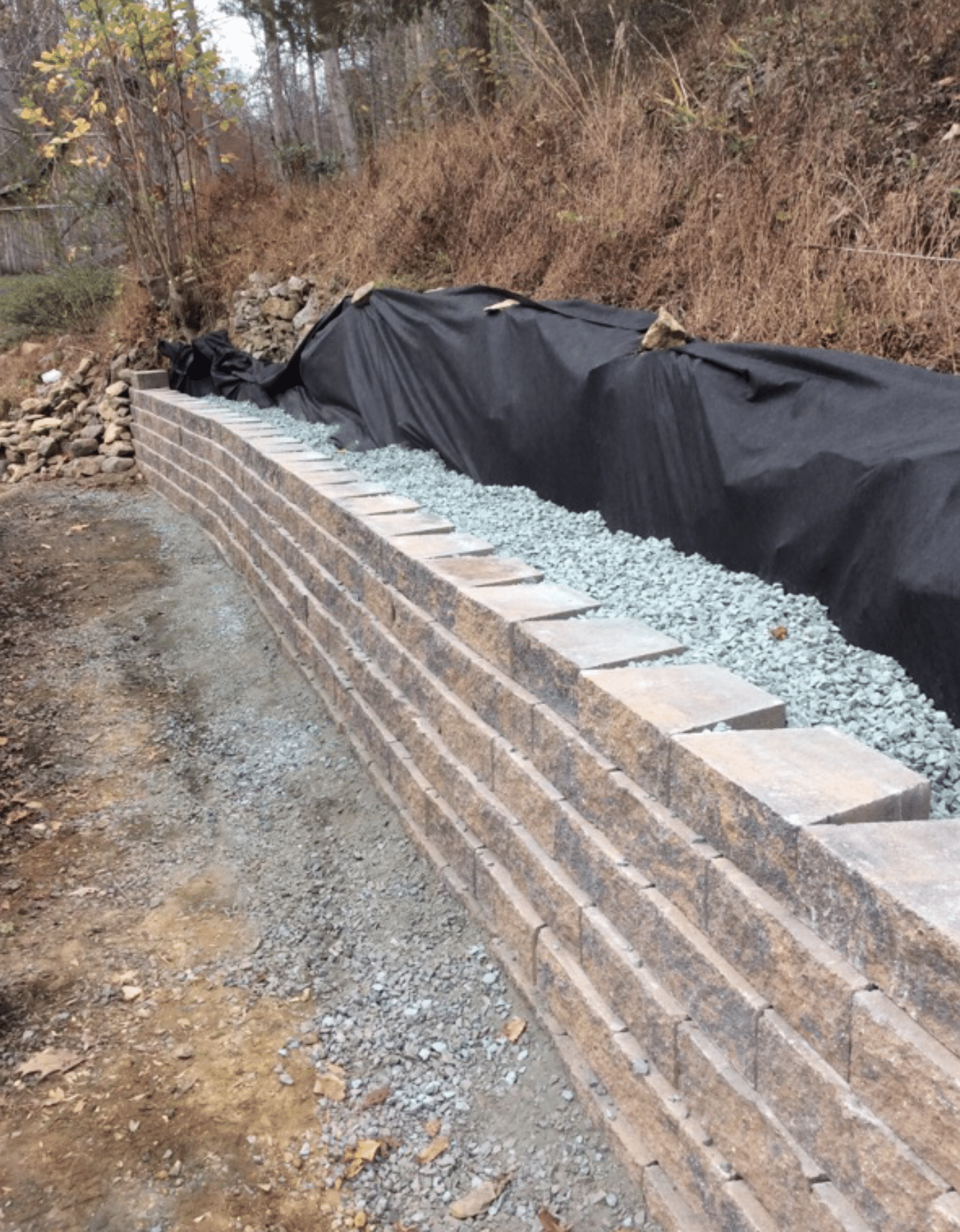 With the Hydraway® installed, we backfilled the new wall with a drainage aggregate wrapped in felt-type filter fabric. We covered the fabric by backfilling with a coarse, permeable stone for optimal drainage. Backfilling as we built the wall up, we installed several more layers of stone. At the top, we set and glued caps for a polished finish. This new wall will drain much better than the original, properly managing water flow and preventing water damage at the home's foundation.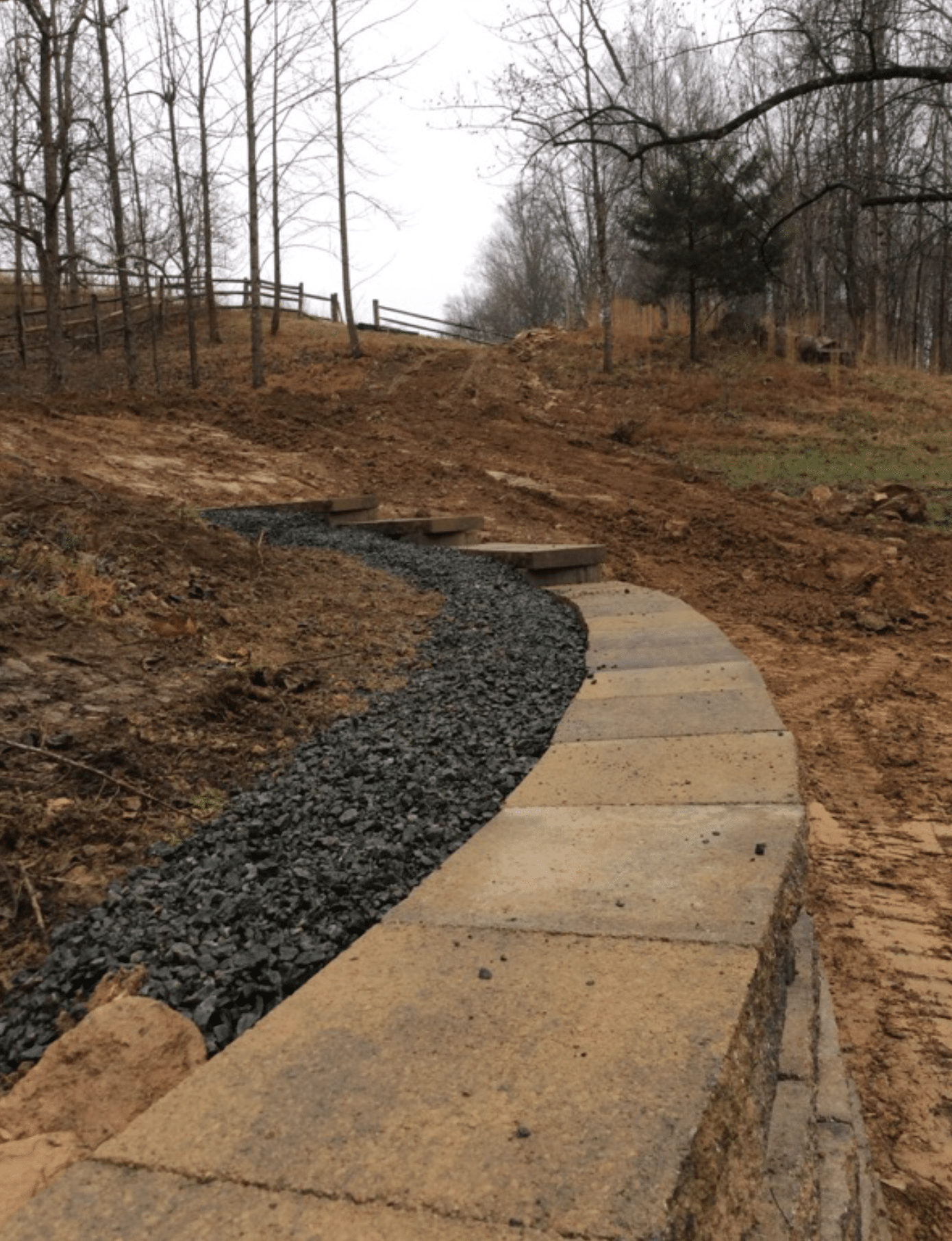 At Reynolds Contracting, we offer a wide variety of general contracting services, including earthwork, foundation repair, and hardscaping. Our experience across all of these services brings you the best, top-quality work in the industry. For drainage solutions with retaining walls, you can trust Reynolds Contracting. Contact 434-293-6724 for an estimate in the Central Virginia area.