Reynolds Contracting offers a wide variety of general contracting services in the Central Virginia area. From earthwork to foundation repair, from pond reconstruction to golf course renovation, our crews have solved many problems for homeowners and business owners alike. As often as possible, we use our experience in one service combined with our knowledge in another service to bring you the best finished product. In fact, earthwork and foundation repair services are often very closely related and dependent on one another. On a recent project, we combined our earthwork, grading, and drainage services with our foundation repair knowledge to repair and improve a home in Charlottesville, Virginia.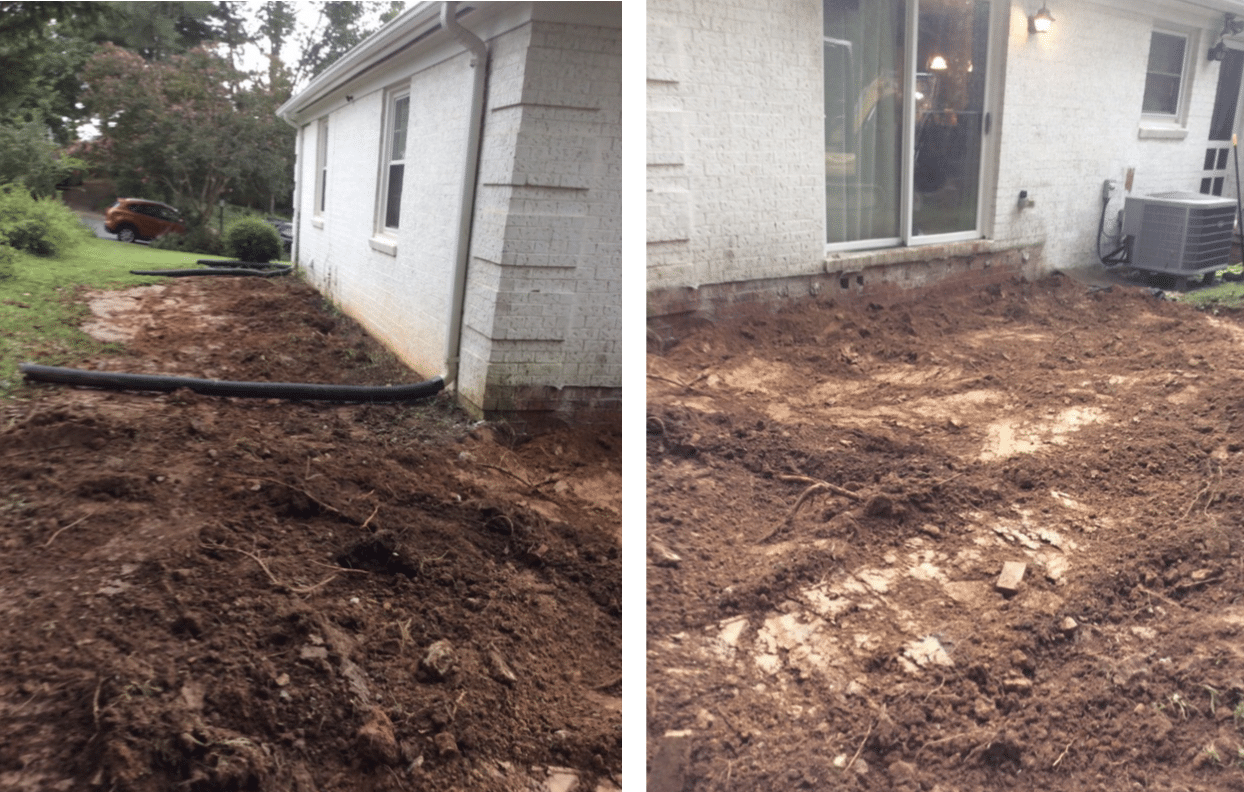 When we had the opportunity to visit the site, we discovered the home's backyard patio had been built over fill dirt. Over time, the fill dirt had collected water and settled, causing the patio to sink in the middle by about 6 inches. We recommended removal and replacement of the exiting concrete patio, including the addition of helical foundation piles at the outer edge of the new slab for maximum stability and support. To address the cause of the problem, we proposed a new drainage swale along the side of the house, finely graded for optimal drainage and minimal erosion. We also suggested new downspout drainpipes to handle roof runoff more effectively, as well as proper backfilling to prevent settlement in the future.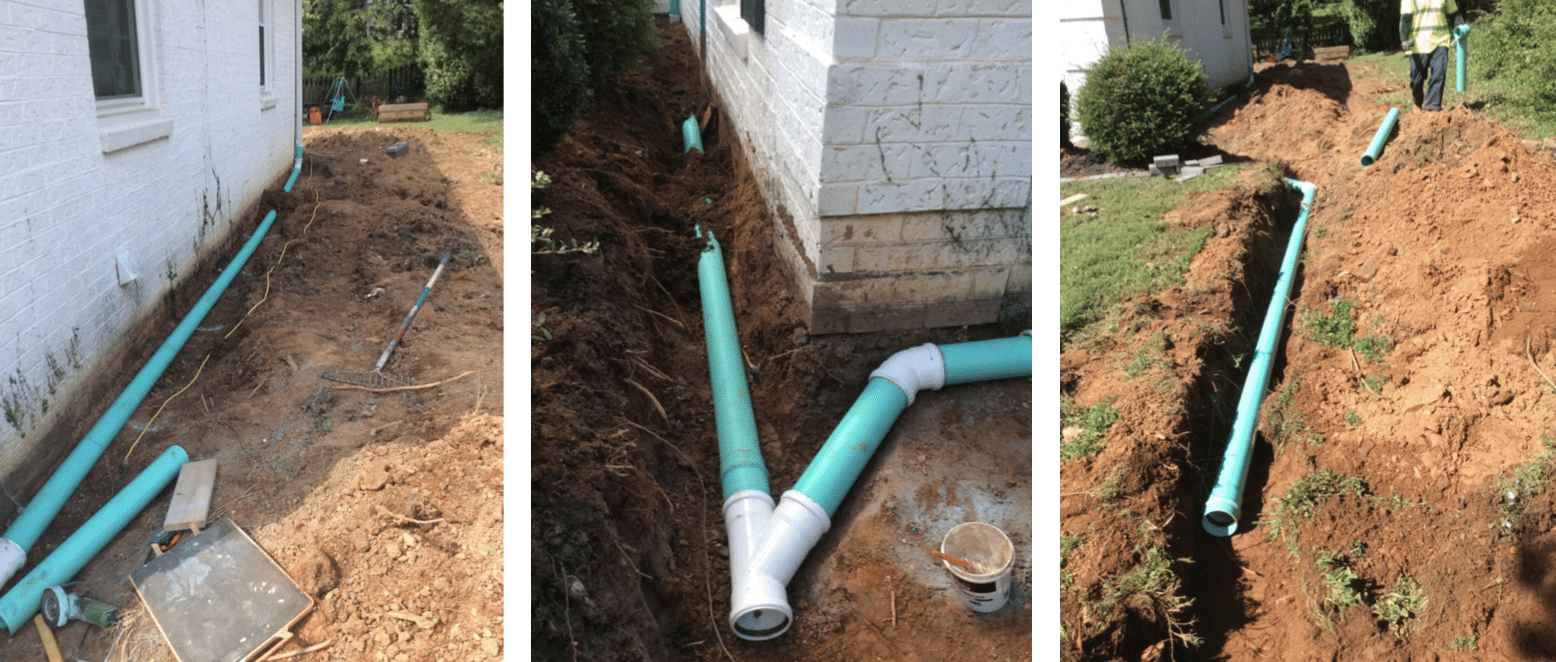 To begin, we excavated the weeds and bushes beside house, clearing the way for our crew. We demolished the existing concrete slab patio and hauled the material to the landfill. Next, we installed a SDR35 drainpipe and began grading the swell on the side of the house. As we started forming up the new concrete slab, we installed two Chance helical piles, using the industry's leading foundation repair system and highest quality materials. We are the AB Chance Certified Dealer in the Central Virginia area, offering the best foundation solutions installed by our experienced and certified team, backed by a 30-year transferrable warranty.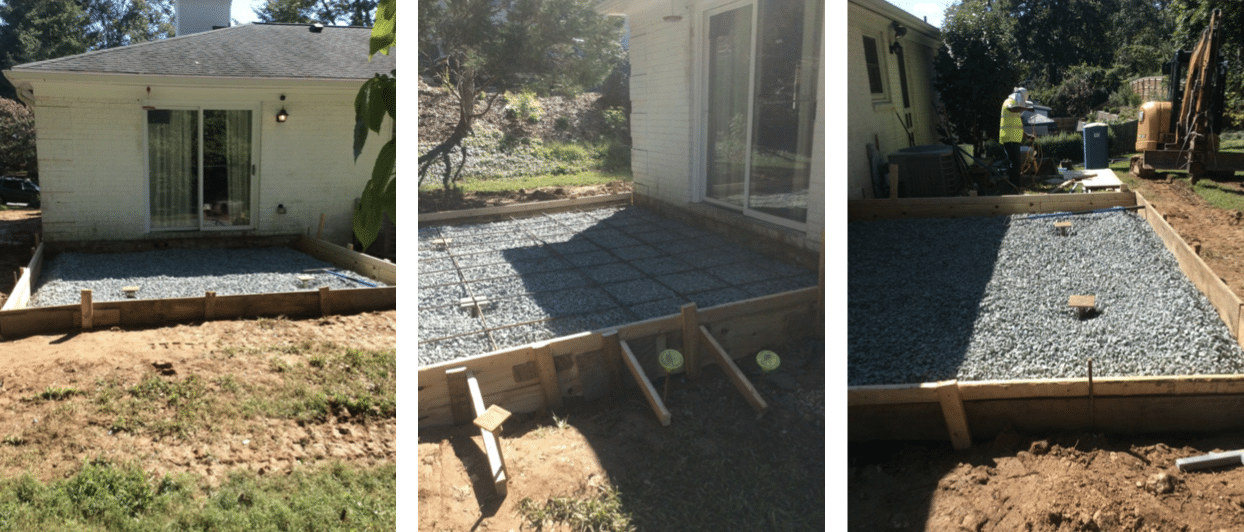 With the helical piles installed, we finished forming up the concrete slab with #57 stone over the subgrade and 4-inch rebar. We poured 5 yards of concrete for the patio and stripped the forms. Finally, we completed excavation of the swell for drainage, backfilling with dirt and compacting with a trench tamper to reduce the possibility of settlement. We graded and prepped the ground for seed and straw; then we cleaned up the jobsite.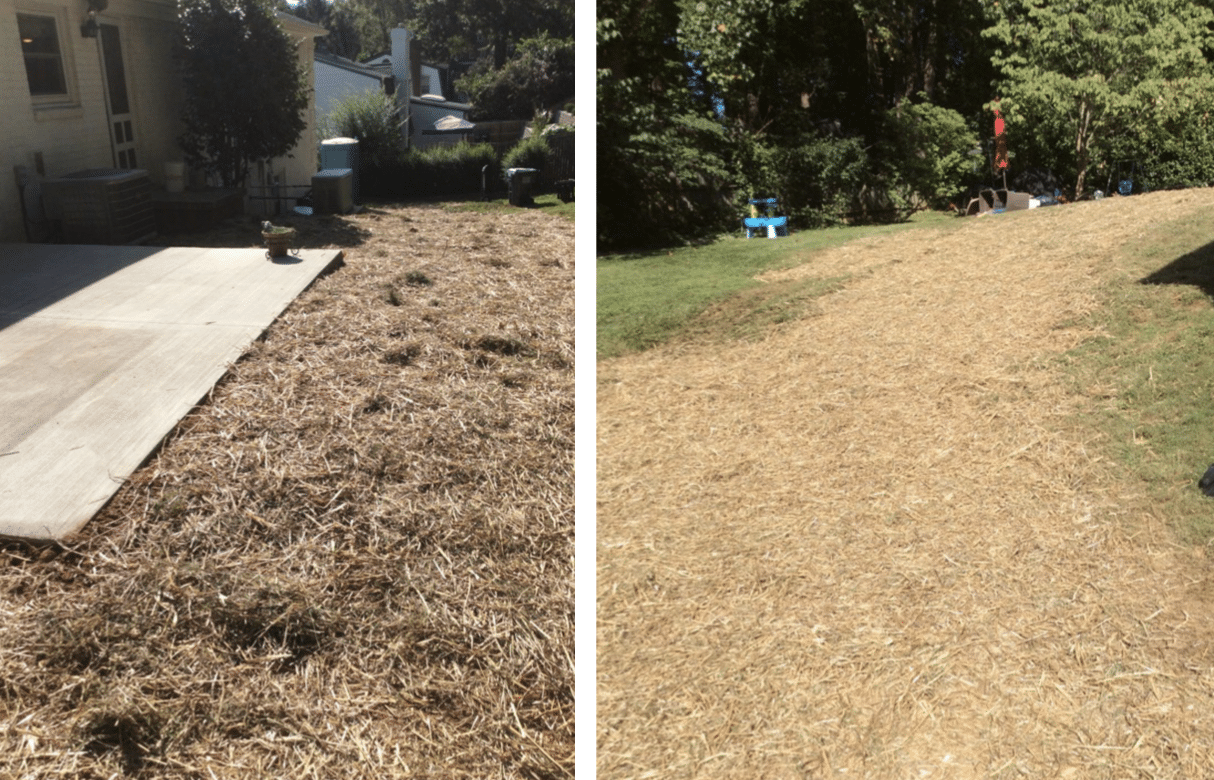 We enjoyed this job as it combined some of our favorite services into one project. We were able to offer the best finished product for the homeowner because of our experience in both earthwork and foundation repair services. For your next home improvement project, consider Reynolds Contracting and the many services we offer. Call 434-293-6724 for an estimate!