Reynolds Contracting is a leader in residential and small commercial construction in the Central Virginia area.  We offer a variety of services, including earthwork, foundation repair, golf course renovation, hardscaping, and more.  As part of our earthwork services, we respond to a number of driveway issues as problems arise. On a recent project, we worked with a client to complete their residential driveway repair near Charlottesville.
Driveway Pipe Replacement
On this particular job, we replaced a driveway pipe that was too small.  The ends were pinched, holding a lot of dirt.
In some places, there was no pipe at all, but the driveway definitely needed it.  We installed a new, larger pipe where the old pipe used to be, and added pipe in the necessary places. Because the pipe's diameter was so much bigger than the old pipe, we used great care to ensure the pipe would stand the test of time.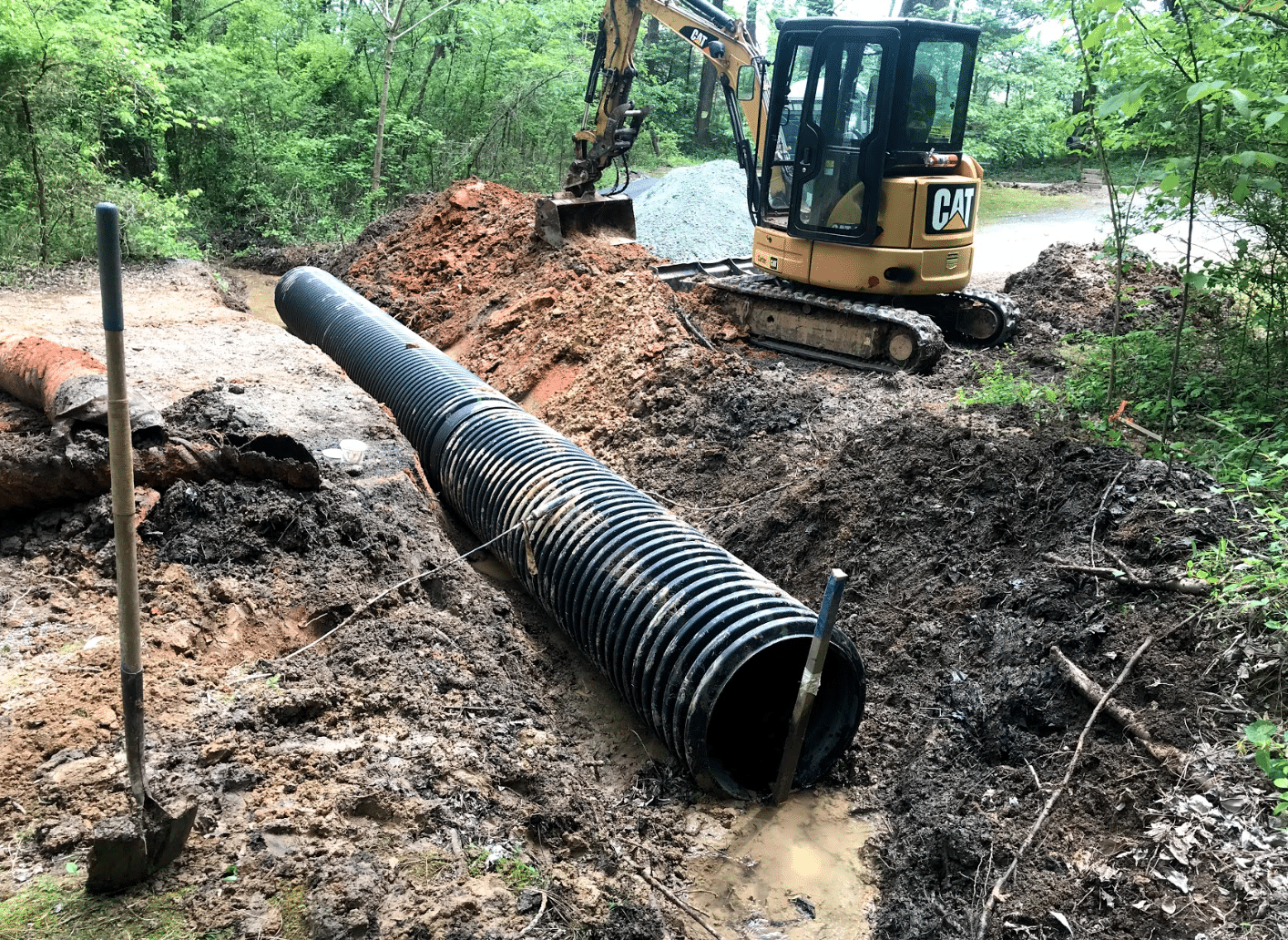 We backfilled the pipes up to the horizontal center with concrete because it's impossible to get a tamper to compact under the bottom curvature of the pipe. Most of these bigger pipes fail from the bottom because the dirt can't be compacted to support the bottom of the pipe at such an angle.

Attention to Detail
This attention to detail goes a long way in the life of a pipe.  Some contractors would take shortcuts to save on time or materials, but their finished product is only a bandaid on the problem.  We offer long-lasting solutions because we care! Solving problems correctly the first time will avoid headaches and more costly repairs later on.  That's why we advise clients to keep up with preventative maintenance and take care of small issues as soon as possible. When you call us for an estimate, we note any key factors that could be contributing to problems now — and down the road. 

Residential Driveway Repair Estimates
When it comes to residential driveway repair, choose Reynolds Contracting for our attention to detail, quality products, experienced crews, and care for your home.  Contact us for an estimate at 434-293-6724 today! We look forward to helping you with all of your earthwork needs, protecting your investment for years to come.